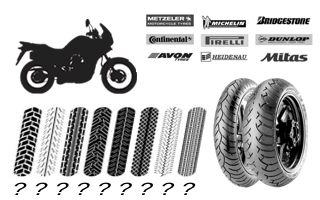 Informace uvedené v této stránce je jen pro vaši informaci. Ty úplně vybít myNETmoto nenese žádnou zodpovědnost ve vztahu k, nebo jako důsledek, tvrdí sami a / nebo jakékoli třetí straně za případné škody, které následují montáže pneumatik není dovoleno.
DUNLOP STREETSMART


Combining classic looks with modern technology, the new StreetSmart is ideal for older or classic bikes. Innovative Silica compound offers longer mileage and better wet performance. Ideal for lightweight and classic bikes - Stylish design - State of [...]
(incl. DHP exkl. poštovné)
BRIDGESTONE BT 45


This all-round sports bias tyre is for imported and re-imported bikes and offers the same basic performance as the BT-45. Ideal for the rider who seeks overall high-speed performance.
(incl. DHP exkl. poštovné)
METZELER LASERTEC


The newest materials and compound technology applied to a classic tread pattern design for enhanced performance out of your bike - New compound with high Silica developed for outstanding grip both in dry and in wet enhancing riding performance - &q [...]
(incl. DHP exkl. poštovné)